Pump Solutions Group Launches New Sphero S
Pump Solutions Group is pleased to announce that it officially unveiled its new Automatik Plastics Machinery Sphero S Underwater Pelletizing System at Chinaplas 2014, which was held from April 23-26 at the Shanghai New International Expo Centre in Shanghai, China.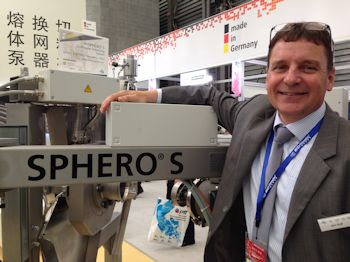 New SPHERO® S System (Image: Pumps Solutions Group)
"Chinaplas was the perfect venue for us to introduce our new Sphero S System," said Andreas Weidner, China Sales Director for Automatik Plastics Machinery. "Launching the Sphero S in front of the over 40,000 visitors to Chinaplas was a great experience, and we received an overwhelmingly positive response from everyone at the event. We look forward to showcasing the Sphero S at other upcoming shows such as Fakuma, IPF and Equiplast later this year."
Automatik's new Sphero S has been specifically designed to be a cost-effective alternative to larger and more customizable systems. The Sphero S incorporates a variety of innovative features, making it ideally suited for compounding, masterbatch and recycling applications with medium throughputs, typically between 700-3'000 kg/hour. The major technological advancements in the Sphero S include new pneumatic diverter valves that optimize the flow channel and a user-friendly, ergonomic design for easy cleaning and quick changes of die plates.
Other improvements to the Sphero S include a frame that allows it to be mounted on a single mobile structure, which guarantees a perfect alignment and a reduced footprint. In addition, special attention has been given to the design of the cutting tools to guarantee process integrity and ensure the production of evenly shaped, high-quality pellets.