Process Metering Pumps in Focus – Customer-orientated and worldwide presence
As the market leader in the low-pressure diaphragm metering pump segment, ProMinent is now strengthening its position as a supplier of process metering pumps.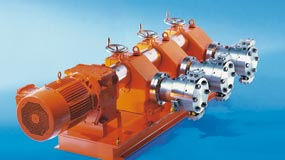 With the complete integration of high-performance pump series for maximum pressures and metered quantities in its product portfolio as well as in all company processes, the Heidelberg-based company is now positioned as a complete supplier of metering pumps of all performance classes.
The aim is to achieve an above-average annual growth rate clearly in the 2-digit percentage range in the process metering pump sector. With the complete integration of ORLITA, previously a 100 % subsidiary, in ProMinent Dosiertechnik GmbH, ProMinent has rounded off its product spectrum of high-end process metering pumps in all steps of the value chain. This development is driven by ambitious targets: As the market leader in the low-pressure diaphragm metering pump segment, ProMinent now aims to secure a stronger market position in the process metering pump sector.
Intensive Preparation
The Heidelberg-based company has been preparing itself intensively for the task of increasing its presence in attractive target markets for process metering pumps such as the oil and gas industry as well as the chemical industry: For instance, over the past two years the comprehensive ranges of hydraulic diaphragm pumps as well as piston metering pumps have been seamlessly integrated in ProMinent's product portfolio. Design and development data have been completely digitised and installed in CAD systems.
A further step has been to modernise the production process to achieve, also in this case, the level of existing metering pump production. With a production process which was initially geared to small quantities with high flexibility in the process metering pump sector, the entire production planning and control had to be changed over to series production without loosing the required degree of flexibility. Today, customer-specific individual devices can be realised just as effectively as large-scale projects involving large quantities. With the optimised production line, shorter delivery times are now made possible by largely standardised production processes and the optimised configuration of individual assemblies. Certified in accordance with DIN ISO 9001:2000, consistently high quality of all products is ensured at a production depth of over 70 % at seven production sites worldwide.
Developing New Markets
Prepared to manufacture large quantities, ProMinent is also well prepared in its service and sales organisation for entering new markets. 44 wholly owned subsidiaries and representatives in additionally 60 countries ensure worldwide availability of the products and short routes to the customer. Direct contact with the ProMinent branch in the respective country is possible without mentality and language barriers, ensuring comprehensive presales consulting during the project planning stage as well as intensive support in the construction and operation of systems and installations.
ProMinent is the supplier of process metering pumps with the largest network of own sales subsidiaries worldwide. In particular, ProMinent is present on site with its own branches in all oil and gas regions of the world and in the top ten natural gas and oil producing countries. With the aim of further expanding this sales network, a joint venture agreement has been recently concluded with the commercial partner Juffali to open a further branch in the United Arab Emirates. The aim is to provide even more effective support for the booming oil and gas industry on the Persian Gulf.
Ambitious Targets
ProMinent expects an above-average annual growth rate clearly in the 2-digit range for the process metering pump sector. The company aims to gain a substantial market share particularly in oil and gas production as well as in the chemical and petrochemical industry, thus improving its long-term market position in the process metering pump sector. More information you can find on: www.prominent.com