Prepared for the future: SEEPEX gives management a broader base
Ulli Seeberger, SEEPEX's Owner/Chairman, has revamped the management team to create a stable foundation for future growth.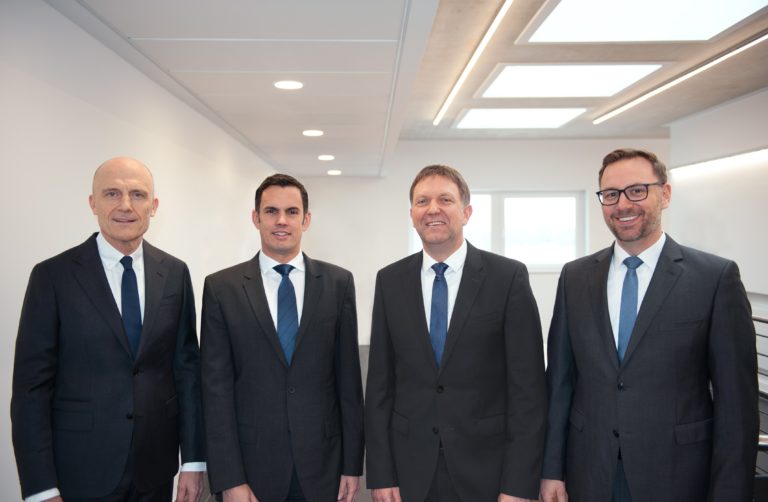 The SEEPEX Management Board is being expanded; from left to right: Ulli Seeberger (Chairman), Alexander Kuppe, Dr. Bernd Groß, Dr. Christian Hansen. (Image source: SEEPEX GmbH)
Dr. Bernd Groß and Dr. Christian Hansen bring many years of experience at SEEPEX to the team.
Dr. Christian Hansen has been with the company since 2015 in his role as Vice President of Technology & Innovation (CTO) and is responsible for R&D and IT. In this role, he is driving digital change for the company and its products. Innovations focus on the development of user-friendly and intelligent products that support customers in their technological advancements. This way, SEEPEX further expands its leadership in the field of modern pump solutions.
As Chief Operating Officer (COO) and Chief Financial Officer (CFO), Dr. Bernd Groß heads the Operations and Finance divisions. In his function, he ensures consistent optimization of the value chain within the company, drives strategic projects in corporate development, and controls the company's financial risk management.
The team is completed with Alexander Kuppe, an experienced managing director and sales manager who now heads the Sales and Customer Service (CSO) department. Under his leadership, SEEPEX will continue to develop its market-oriented strategy and focus consistently on customers' needs.
"The new management structure – with its combination of experience, expertise and the ability to meet future challenges – supports successful customer and market-oriented development within the company," says Ulli Seeberger. Research, innovative strength and more than 800 committed employees worldwide form the basis for the success of the Bottrop-based family company. SEEPEX is underpinning its market leadership as well as its pioneering role in the field of digital solutions. Product innovations throughout the life cycle of the pumps help customers to greatly reduce costs.