preeflow Introduces New Microdispensers
preeflow has once again raised the bar with the presentation of the eco-PEN XS 180. As a leading brand for precision dosing equipment, preeflow has developed the new microdispenser especially for the lowest boundary ranges in dosing quantities, and it is currently the most precise volumetric microdispenser available worldwide. The eco-PEN XS 180 therefore represents a new milestone in microdosing technology (0.25 µl**).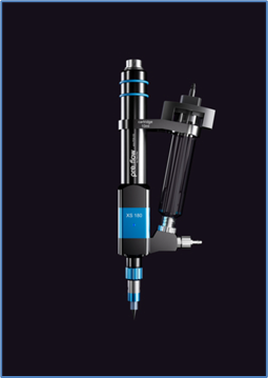 preeflow eco-PEN XS 180 microdispenser (Image source: preeflow)
preeflow's latest product doses highly precise quantities of a wide range of materials in the nanoliter and microliter ranges. Thanks to the low overall weight of approx. 175 g, high axis accelerations can be implemented for the dosing stations. The frontal adaptation of the cartridge allows the use of multiple dispensers per dosing cell in a narrow grid spacing (~25 mm).
With regard to applicable industry sectors, the eco-PEN XS 180 can be deployed in a wide variety of applications: From electronics manufacturing to medical technology, it is possible to ensure consistently reliable and confident handling of the smallest dosing quantities in both dot and line dosing applications. Bead widths starting from >0.1 mm** can be dosed. Particularly since chip packages are getting smaller and smaller as time goes by, while PCBs continue to increase in complexity, industrial manufacturers are becoming more dependent than ever on being able to ensure precise dosing with repeat accuracy. The eco-PEN XS 180 fulfills this brief perfectly, dosing materials such as solder pastes, die-attach adhesives, edge-bond adhesives, electrically conductive adhesives, underfills or potting materials with reliability and precision.
The SMT manufacturing industry in particular benefits from the progressive cavity technology: For one thing, it allows a wide range of viscosities to be dosed. For another, solids-laden fluids can be dosed with particularly low shear. This prevents material separations or the destruction of filler particles. Altogether, these represent significant benefits for the careful dosing of high-quality adhesives.
High precision, reliability and outstanding flexibility are the cornerstones that distinguish preeflow products. "The eco-PEN XS 180 therefore serves as yet another outstanding example of our continual innovative capabilities," emphasizes Horst Kelsch, chief developer of the preeflow dispensers. "We designed the product in accordance with our customers' requirements and then developed the world's smallest microdispenser on this basis. With it, we are yet again pushing the boundaries of what is feasible in dosing applications and opening up new possibilities."
**The lowest dosing volume is dependent on the application.