Power Station Pumps by KSB for Cairo
In November 2015, the KSB Group received an order in the double-digit million euro range for 27 power station pumps to be supplied to Egypt. The equipment will be delivered in several lots between January and September 2017.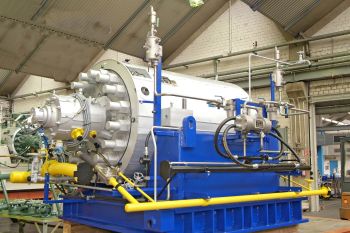 CHTD pumps of the type that will be supplied to the South Helwan power station in Egypt (KSB Aktiengesellschaft)
The order includes six boiler feed pump sets, each comprising a booster pump, a 15 MW drive turbine and a main pump. This is added to by three start-up boiler feed pumps with a 4600 kW high-voltage electric motor each. The scope of supply further includes six condensate pumps and six water pumps for intermediate cooling.
A remarkable technical feature is the double-entry design of the start-up boiler feed pumps, enabled by low inlet pressures. This does away with the need for booster pumps and saves both costs and space.
All pump sets are intended to be used in the South Helwan power station, which is currently under construction. It is situated in an industrial estate 130 kilometres south of Cairo. The power station comprises three units with a nominal output of 650 MW each.
With the new power station the energy provider primarily aims to reduce the power shortage during summer. In early 2015, the Frankenthal-based pump manufacturer had already been commissioned to supply the cooling water pumps for this power station.