P&M Pumps Provide Vital Support in Dealing with Gibraltar´s Sewage
Over the last decade, AquaGib, the local water utilities company in Gibraltar, has continued to work with its long-standing partner P&M Pumps, specifically with the supply of Vaughan Chopper Pumps.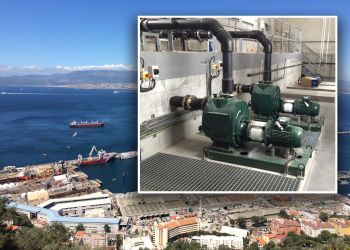 P & M Pumps
Since 2007 and following the successful trial of a standard Vaughan self-priming chopper pump that was installed at AquaGib's Waterport sewage pumping station, over twenty self-priming Vaughan Chopper Pumps have now been installed across the Rock. These pumps have become a standardised feature in many of AquaGib's pumping station and are now a standard requirement in any future station.
A problem unique to Gibraltar is the use of sea water for sanitary purposes, as well as street cleaning and firefighting. All this sea water ends up flowing into the sewage network, which ultimately increases the salinity of the sewage making it that more corrosive. The combination of the high salinity as well as the high solid content offers a challenging scenario to any pump. However, following the successful trial back in 2007 and the subsequent year in use, the Vaughan Chopper Pumps have shown how effective they are in dealing with high solid contents especially when those contents are non- degradable in combination with the high salinity.
To build further on the relationship between P&M Pumps and AquaGib, and to learn more about how to get the most effective use out of the Vaughan Chopper Pumps, a group of employees from AquaGib's Water Production Department, who are also responsible for the sewage pumping stations, recently travelled to P&M Pumps' workshop in Cambridgeshire. During their time there, AquaGib's team where able to learn additional maintenance techniques on the Vaughan that will hopefully make them that more effective and extend their operating life, as well as providing their own experience in using these pumps on location back in Gibraltar.
Commenting on AquaGib's long standing relationship with P&M Pumps, Chris Gomez, Water Production Director stated, "Over the last decade and more, P&M Pumps have continually provided AquaGib with a first-class service in supporting us through our work in building a modern sewage pumping network." He continued "The support we get from P&M, especially when it comes to the selection, installation and operating of the Vaughan Chopper Pumps has given us a solution to the unique problem of a high solid content highly corrosive unscreened sewage. This excellent relationship has resulted in P&M Pumps being one of our main suppliers of pumps, especially within our sewage network, which we hope will continue for the foreseeable future."
Through their experiences at numerous installations, P&M Pumps are able to demonstrate that Vaughan Chopper Pumps can bring significant cost-savings. In most cases, retrofitting a Vaughan Chopper Pump into a problematic area improves the whole process and will be self-financing, with payback periods of less than one year, thereafter minimising the effect to the budget holders.