Pfeiffer Vacuum Introduces New Magnetically Coupled Rotary Vane Pump Duo 11 ATEX
The Duo 11 ATEX rotary vane pump, which meets ATEX directive 2014/34/EU, was brought to the market by Pfeiffer Vacuum for processes taking place in potentially explosive atmospheres or conveying explosive gases and vapors. As such, it satisfies the most stringent explosion protection requirements.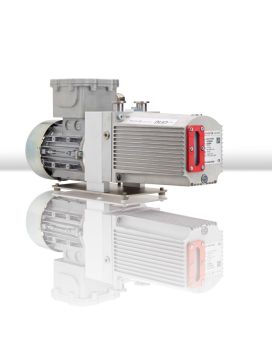 Pfeiffer Vacuum magnetically coupled rotary vane pump with Atex certification (Image: Pfeiffer Vacuum GmbH)
The ATEX certification applies for both the interior and exterior of the pump. The Duo 11 ATEX is classified as equipment category 3G and temperature class T4. It can convey all gases up to and including explosion group IIC.
The pumping speed is 9 m³/h at 50 Hz and 10.5 m³/h at 60 Hz. The Duo 11 ATEX is equipped with a frictionless magnetic coupling. The shaft seal rings that are used with other rotary vane pumps can be dispensed with as a result. The extra safety which the magnetic coupling provides is important in explosive atmospheres: without shaft seal rings, it is impossible for media inside the pump to escape out through faulty shaft seal rings.
Explosion-proof equipment is required in many types of applications: potentially explosive gases are used in numerous industrial processes. Hazardous gas atmospheres are present in applications such as research experiments, various industrial processes, biotechnology, and chemistry laboratories. Gas filling machines are also vulnerable to a massive risk of explosion. The new Duo 11 ATEX from Pfeiffer Vacuum can be used in all these areas.