Over 200 Pumps for the Oil and Gas Industry
Hermetic Pumpen announces a major order to be ready for dispatch: More than 200 pumps with canned motor drive are packed and ready to be sent to the Middle East. The mega scale project includes all pump widths: from the smallest 'CAM 1' to typical Oil & Gas pumps of the 'CNP' range.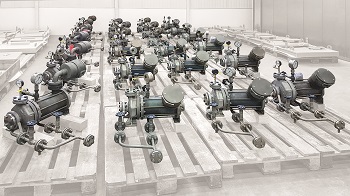 Hermetic Pumpen
All of them are fitted with API 610 (American Petroleum Industry standard) hydraulics and equipped with a maintenance free canned motor and Hermetic Zart technology. The pumps fulfill API 685 standard requirements for sealless pumps, as well as expectations towards safety and reliability.
The drive power ranges from 1 kW to more than 100 kW. Several typical applications of refineries and power generation plants are covered: Amines, sour water and several highly volatile hydrocarbons.