Operational Safety with Hazardous Chemicals and Large Delivery Volumes
A large Austrian company, a worldwide leader in the manufacturing and marketing of man-made cellulose fibres and Viscose fibres, recently needed a dosing pump for 36% hydrochloric acid suitable for large delivery volumes.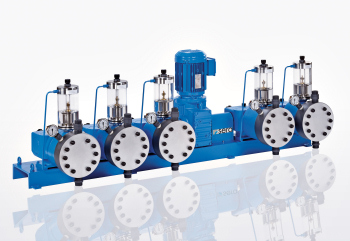 sera multi-headed piston diaphragm pump from series 410.2KM (Image: Seybert & Rahier)
The company is a long-term customer of the sera sales partner Hennlich. For many decades, Hennlich from Schärding, Austria, has distributed the sera product range in Austria in close cooperation.
Great operational safety even at high flow volumes
The requirements of the customer for this pump, designed for a delivery volume of 4,800 litres per hour, included optical diaphragm monitoring, adjustment of the stroke length when the machine is stopped or running, an integrated compensation valve, overcoming high counterpressures, low residual pulsation and high dosing accuracy.
The responsible Hennlich project manager and the experienced application technicians from sera were able to meet all customer demands with a multi-headed piston diaphragm pump from the 410.2KM model series.
Decades of experience in handling critical media
Dosing and delivery of aggressive chemicals such as hydrochloric acid have special demands on the material and the operational safety of a diaphragm pump. The dual diaphragm technology was registered by sera for patent approval in the early 1950s and even at that time, sera was able to offer absolutely safe and reliable pump technology for this application.
Over the decades, sera has expanded this expertise continuously and is today able to offer powerful, economic and durable product solutions, even for large delivery capacities.