NOV Mono Receives Order from Jet-Lube
A new order for two Merlin progressing cavity pumps has helped focus the spotlight on the value of the technical expertise and support available from NOV Mono.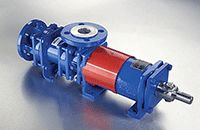 Merlin Industrial Pump (Image: NOV Mono Pumps)
In addition to supplying new pumps and spares to Jet-Lube of Maidenhead, Berkshire, Mono also provided technical guidance which helped Jet-Lube achieve a 30% increase in performance efficiency from some of its existing pump equipment.
"We purchased a Mono Merlin pump which we installed ourselves in our kettling plant." says Works Manager, Adrian Russell. "We were pleased with the pump's performance and decided to purchase some additional Merlin pumps for the plant. During the course of our discussions, Mono was able to advise on changes we could make which improved the efficiency of the older Mono D Range pumps by some 30% by modifying the pipework and fitted a new mechanical seal. That sort of technical guidance from a manufacturer is extremely valuable."
Jet-Lube has since purchased a number of Mono pumps in recent months. Two new Merlin pumps are being used to transfer the base grease which is a central ingredient of many of the specialist greases, compounds and lubricants which Jet-Lube manufactures. "The base grease is kept at temperatures of up to 120 deg C and has a high acid content. Therefore it was important that we chose a pump which could withstand this type of demanding application," adds Adrian Russell. "Again, Mono's input and help in choosing the correct pump was extremely valuable, as was their ability to provide a full range of spares to ensure that we maintain maximum uptime."
The Mono Merlin is a thoroughly proven self-priming pump which offers a rugged, compact and economic solution for a wide range of industrial applications. It can operate in either direction, and its gentle pumping action minimizes shear and crush damage to the pumped product, making the Merlin ideal for shear sensitive and viscous materials, solids in suspension, gases, abrasive liquids and solids mixtures.