NOV Mono Marks Distributor Anniversary With Special Presentation
The supplier of progressing cavity pumps and associated equipment has marked the 20th anniversary of one of its key European distributors with a special presentation. NOV Mono presented a special 'Mono Man' trophy to Madrid-based Albosa, in recognition of the outstanding service which the company has provided during two successful decades of serving the Spanish market.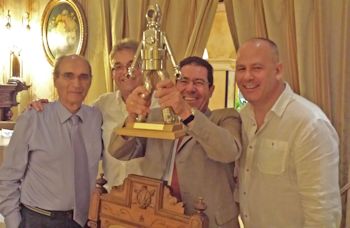 Pictured from left are Manuel Modrego (Albosa) Colin Ambridge (Mono) Pablo Piedras (Albosa) and Ian Horton (Mono), with the special 'Mono Man trophy given to mark Albosa's 20 highly successful years as a Mono distributor. (Image: NOV Mono)
Albosa was founded in 1994 to market, distribute, service and support the wide range of Mono progressing cavity pumps, grinders, screens and aftermarket parts throughout Spain. "We established Albosa to work exclusively with Mono, rather than being a multi-brand distributor," says proprietor Manual Modrego. "Our aim was for customers to see us as an extension of the Mono brand in the Spanish market – a distributor that was 100% integrated with the manufacturer whose products it supplied."
"Albosa has become the leading supplier of progressive cavity pumps and spares in the Spanish market, and created a very stable presence for itself in what is a changeable environment. That is a major achievement," adds Mono's European Sales Manager, Ian Horton. "Today, the company serves customers in a wide range of industries including water and waste, pulp and paper, oil and gas, chemical, marine and mining, and it consistently achieves extremely high sales figures from our customers in Spain."
"The key to our success is that we have an outstanding team of people who are well trained and who have an extraordinary understanding of the Mono products and their applications," says Manual Modrego. "We pride ourselves on providing the customer with outstanding service, and the excellent support we receive from the team at Mono makes this possible. We also participate in Mono's product and application development programmes and that allows us to provide Mono with valuable feedback direct from the customers."
During the past 20 years, Albosa has recorded a number of key successes, including the installation of the world's largest Mono Stormscreen flow-powered unit, and generating significant growth in sales of Mono's range of Universal Parts.