NOV Mono Eases the Pressure On Sewerage Services in Tasmania
Reliability, cost effectiveness, ease of use and simple maintenance were among the key reasons why Southern Water chose an innovative pressure sewer system (PSS) from NOV Mono, to replace ageing septic tanks for over 900 houses in the community of Lauderdale, Australia.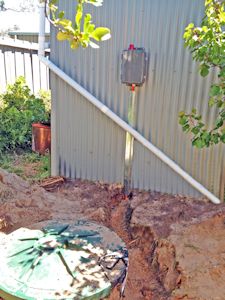 Mono has secured the long-term supply and design agreement with Southern Water, and has now successfully installed its unique InviziQ PSS system in over 270 of the properties, with more set to be added in the near future.
The high water table and flat, sandy terrain which characterise the Lauderdale area meant that a traditional gravity-fed sewerage system was unsuitable. A pressure system was preferred for its ease of construction, and ability to restrict ground water infiltration.
Mono's InviziQ units have been installed on the properties of those owners who have joined the scheme. "InviziQ is an intelligent, practical and reliable alternative to conventional gravity-operated options," says Richard Pacholek, Mono's Industrial Segment Manager for Pressure Sewer Systems "Because it does not need gravity to operate, it offers the freedom to install sewers in any area, irrespective of the terrain, slope, environmental sensitivity or topography, and that is ideal for the Lauderdale area.
"We have worked with Southern Water in the past, and they were keen to use a Mono solution as we are very much a local Australian manufacturer. In return, the installation of the InviziQ™ units has really provided a boost to this community by delivering a reliable and well-proven solution to its sewering requirements, and there is scope to add many more units in future."
The InviziQ PSS system can be installed either in narrow trenches or via directional drilling. This gives virtually unlimited freedom in the design and layout of a sewage network, which can then be sized to meet the specific needs of the individual project. The InviziQ system has a storage tank of 900-litres, a Progressing Cavity (PC) pump incorporating a macerator, and an automatic electronic controller which regulates the flow, monitors fluid levels and protects the pump. It can also support two-way telemetry for remote monitoring.
InviziQ features a unique and revolutionary Dry Well, which keeps the pump motor, fluid level sensor and electrical systems separate from the fluid being pumped. This uses a vertically-mounted pump cassette inserted into the tank through a hole in the Dry Well, and ensures that the pump is suspended without the need for a foot, which can cause ragging. From an operational health and safety perspective, this also makes accessing the system for servicing a far easier and safer process which involves no contact with the sewage.
Picture: Reliability, cost effectiveness, ease of use and simple maintenance were among the key reasons why Nov Mono's InviziQ pressure sewer system was chosen to replace ageing septic tanks for over 900 houses in the community of Lauderdale, Australia.(Source: Mono Pumps Australia)