Non-Metallic Gear Pumps Resist Corrosives
A new range of industrial gear pumps which offer excellent corrosion resistance and optimum reliability thanks to a combination of simplified design and tough, non-metallic materials for all wetted parts, have been introduced by MICHAEL SMITH ENGINEERS.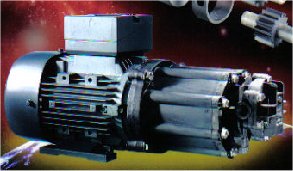 MICHAEL SMITH ENGINEERS.
Eclipse Pulsafeeder pumps are magnetically driven so there are no mechanical seals with contacting faces which removes the potential for wear and leakage. This also eliminates the need for expensive seal flush systems which are usually required for other types of pumps incorporating double mechanical seals.
The pumps housing and gears are made from engineered fluoropolymers ensuring excellent corrosion resistance so they are ideally suited to applications involving hazardous chemicals and high temperatures. Also, a non-metallic containment can eliminate energy loss and heat rise due to eddy current losses, which can occur in metallic pumps.
Simplicity is a key design feature of the pumps, resulting in a significantly reduced number of parts. For example, 16 total parts compared to 40+ on typical metallic pumps. This feature, combined with the pumps front pull-out design, means that all normal wear components can be replaced without disturbing piping or motor connections and so simplifies maintenance and reduces down time.
The pumps are capable of dry-running for up to 30 minutes and so are protected from damage caused by closed suction valves or empty supply tanks.
Eclipse series pumps deliver flows up to 4.5m3/hr at pressures up to 10 bar, they can operate in temperatures up to 150ºC and are suitable for transferring liquids with viscosities up to 10,000 CPS. Typical applications include transferring acids, solvents, caustics, polymers, bleaches, dyes, inks, cleaning agents or handling any medium to highly corrosive liquids in chemical processing, pulp & paper or water treatment industries.