News at interbad 2002
On the occasion of the interbad 2002 - the International Trade Fair for Swimming Pools, Pool and Bath Technology, Saunas, Physiotherapy, Wellness – which takes place from 09. to 12.10.02 in Dusseldorf/Germany, JESCO Dosiertechnik will not only present their well-established product program to the visitors but also various new products such as the new water sampling station "EASYPOOL smart" (booth D48, hall 15).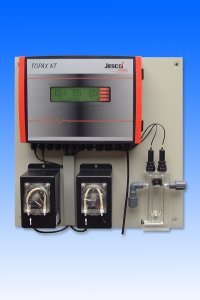 (Source: JESCO)
The water sampling station "EASYPOOL Smart" has been developed especially for use in private swimming pools. The premounted and ready-for-use sampling station is suited to control the hygienic auxiliary parameters and to meter the required chemicals. When designing the station particular importance was attached to ease of operation and maintenance.
For the measurement of the desinfecting performance of the pool water the well proven redox electrode is used. The disinfectant is added as a function of this measured value.
A pH combination electrode and an appropriate peristaltic pump are mounted on the sampling station in order to the pH value.
The integrated peristaltic pumps ensure reliable and smooth metering. They also meter effervescent media such as sodium hypochlorite, and they allow self-venting. Due to transparent pump heads a visual function check is possible.
The TOPAX NT based on the latest microprocessor technology has been chosen as the electronic controller with easy-to-operated plain text menu.
The water required for the measurements is returned to the water system afterwards.