New Wilo Website Launched
Pump specialist Wilo has completely relaunched its online world according to the motto "easier to navigate, easier to find".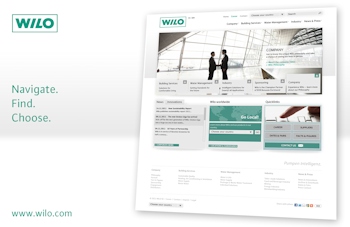 The new Internet site for pump manufacturer Wilo is modern and contemporary and makes searching the website easier.
Since the start of June more corporate themes including the Wilo history, career opportunities, the different market segments or facts & figures and general information about Wilo have been available at www.wilo.com.
At the local website country-specific product and service information, planning and analysis tools as well as the locally relevant contacts can be found. Both the corporate site and the local websites have been developed to fulfill the highest modern standards in usability, functionality and target group orientation. The navigation has been redesigned to be as simple as possible ensuring any information is easy to find. The intention is to ensure a convenient, premium and innovative online experience for all who visit any of the Wilo websites.
"Thanks to the relaunch of our websites, we now accommodate for both the changed demands of our customers and our company strategy," says Richard Crookes, Senior Vice President, Group Marketing at Wilo, who along with his team is responsible for the project s conception and implementation. "The restructuring of the site with the establishment of a user-oriented mega-menu now make navigating the site much easier. Ideally, visitors to the site will find the information they are looking for at the click of a button. To additionally improve the user experience we have also optimised our search function on the site."
So-called product business cards clearly show the essential features and fields of application for the individual Wilo series and are linked directly to the already well-established Wilo tools such as the online catalogue and CAD database. Visitors to the individual country sites can now find contact information directly on the homepage which can be used to contact Wilo´s staff by telephone or e-mail for support and advice. Users of the new websites can also easily pass on its contents via Facebook or Twitter by clicking the "Share" button.