New Verderair Pure Double Diaphragm Pump Range for Harsh Environments
Verder UK are now distributors of the new Verderair Pure range of double diaphragm pumps, officially launched at Achema 2012.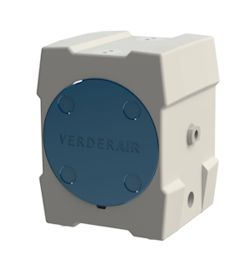 Verderair Pure range of double diaphragm pumps (Image: Verder)
The Verderair Pure range is a robust series of double diaphragm pumps, produced from one-piece solid and pure PE or PTFE (also conductive). The construction is machined rather than cast. There are fewer stress points so the unit can handle and tolerate mechanical forces better than injection moulded units.
The pumps are designed to cope with harsh process environments where fuming and harsh liquids are present. The Verderair Pure range has been rigorously tested to ensure the pump can withstand the demands of manufacturing photovoltaic solar panels where highly aggressive fluids are in use. Other typical industries include the manufacture of semi-conductors, electronics, pharmaceuticals, power stations, refineries and chemical transfer.
Not only is the Verderair Pure suitable for heavy duty operation, it is the most efficient diaphragm pump due to the responsive air valve design. Many of our customers have seen higher flow rates and reduced operational costs because of lower air consumption and reduced maintenance. The seats and valves of the Verderair Pure double diaphragm pump range can be removed and exchanged without the need to disassemble the pump. Simply remove the plug and access the seat and valve for inspection and maintenance.