New Serie DRENAG 1000 – 1200
New DRENAG 1000-1200 has been projected and designed to drain clear wastewater, sandy, slimy and muddy water, containing solids up to 10 mm.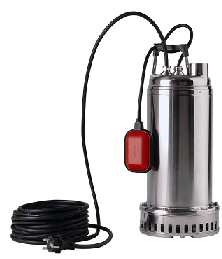 DAB DRENAG 1000 – 1200
Starting from 1st November 2007, you will find the opportunity to order the NEW series of submersible electro pumps DRENAG 1000 and 1200 that will be available for the delivery starting from December 2007.
Fit for:
Draining of construction sites
Emptying of tanks and reservoirs
Draining of cellars, garages, basements
Pumping of domestic wastewater ( washing machines, showers, sinks)
Emptying of tanks in industrial and ecological applications
Lawn and garden irrigation
Fountains
For the construction of this NEW DRENAG series we focused our attention on the main features of quality, reliability, duration and high performances. In doing that, we took advantage of all the knowledge DAB had developed during all the past years in constructing submersible pumps.
As for Feka VS e VX pumps, also for the construction of this new product we have chosen the stainless steel as the main characteristic component.
Most of the other components for the NEW series DRENAG, such as rotor shafts, stators, mechanical seal covers, mechanical seal, etc are the same used for new pumps Feka VS and VX. The result is to reduce the delivery time and bring the production process at its best.
New series DRENAG main features are:
The quality of materials employed such as the oversized greased sealed-for-life ball bearings to ensure silent running and the product's long life.
Reliability due to special features such as the thermo insulation of the capacitor and the mechanical seal with interposed oil chamber.
Balanced micro casting stainless steel impeller
A careful attention on the product's design and packaging.