New Rovatti SNE Centrifugal Pumps Exceed EN733
With the aim of providing a solution that exceeds excellence for irrigation and industrial applications, Rovatti Pompe has presented to the market the latest generation of SNE centrifugal pumps exceeding EN733.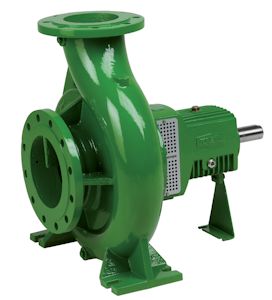 Latest generation of SNE centrifugal pumps (Image: Rovatti)
With capacities reaching 1300 m3/h and hydraulic efficiencies close to 90%, this new range includes different pumps sizes that extend the already wide performance coverage of the established SNE series in a context of extreme efficiency.
The development of the new SNE centrifugal pumps exceeding EN733 has been carried out by Rovatti Pompe in order to respond quickly to the rapid market trends and by paying constant attention to the strict international technical standards on energy efficiency.
As a matter of fact, the team of Rovatti engineers has focused on the design and development of an outstanding hydraulic performance capable of ensuring a constant and optimal operation of the pump even under severe working conditions.
With the careful selection of construction material which includes impellers in micro-casted stainless steel or electro-chemical coated carbon steel (cataphoresis treated), the Twinner System split gland packing flange allows the removal of the hydraulic sealing parts without moving the motor and disconnecting the pump body from external pipework.