New Range of Axially Split Double Entry Pumps from SPX
The ClydeUnion Pumps Uniglide-e range of axially split double entry pumps from SPX is helping users to achieve class-leading improvements in efficiency while reducing their maintenance downtime and costs.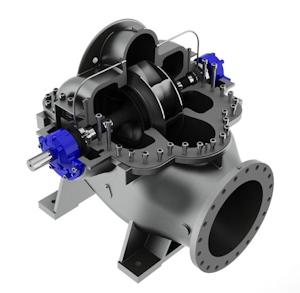 ClydeUnion Pumps Uniglide-e range from SPX
The range was developed using the latest 3D and FEA analysis software, plus extensive input from key customers in the water treatment, desalination and wider process industries.
As part of their continuous improvement program, ClydeUnion Pumps have further enhanced the range efficiencies with alternative coatings and PEEK (polyetheretherketone) composites. These pumps are pulling up to 1.5 MW, so even the smallest saving becomes very important in terms of energy efficiency. The Uniglide-e range typically costs 30% less than traditional split case ranges and is also physically smaller. Small size was a key requirement of the design process, as space has always been at a premium for water industry and desalination customers. Here the ability of the Uniglide-e pumps to be mounted vertically is also proving important to their market success, saving 70% of its horizontal footprint.
Modularisation was another key requirement for the Uniglide-e range: 48 individual pump frame sizes divided into seven modular shaft groupings with standard cartridge bearing and seal assemblies. A huge wealth of hydraulic experience from traditional split case models and using the 3D and FEA analysis software has allowed a reduction in the number of major parts in each pump to just seven. As a result, maintenance becomes a simple task for users, who don t have to pay a premium for this sort of access or worry about health and safety issues. This is a big differentiator for ClydeUnion Pumps, an SPX brand.
For example, the split casing design simplifies maintenance by allowing access to pump rotors without disturbing pipework or drivers. In addition, cartridge bearings and seals can be changed in a fraction of the time taken on a conventional axially split case product. Similarly, for the economic renewal of operational clearances, replaceable metallic wear rings are fitted as standard on cast iron units. These reduce pressure leakage and improve the overall efficiency, while composite wear rings are fitted as standard on the steel alloy units.
The traditional problem of radial thrust is reduced by utilising double volute casing design on all but the smallest frames, leading to improved efficiency, minimised vibration and extended seal and bearing life. Current bearing life is typically over 100,000 hours.
Meanwhile a hydraulically balanced impeller designed with optimised geometry provides high efficiency and low NPSH whilst minimising axial thrust. This extends both bearing and seal life.
The ClydeUnion Pumps Uniglide-e range from SPX, which has already won a British Pump Manufacturers Association Product Award, is designed for both the 50 Hz and 60 Hz markets, with clockwise and counter-clockwise rotation available. The pumps have a capacity of up to 4000 m3/h and a delivery head of up to 200 metres. They can operate at temperatures up to 80 °C and speeds up to 1800 rpm. A broad range of materials are available for non-corrosive and corrosive applications such as seawater. These include cast iron, stainless steel, duplex and super duplex. Other materials are also available on request.