New Progressing Cavity Pump AEB-SE
Allweiler AG's new progressing cavity pump is designed to meet the specific needs of beverage manufacturers, handlers, and bottlers. Pumps of the "AEB-SE" series are suitable for all ...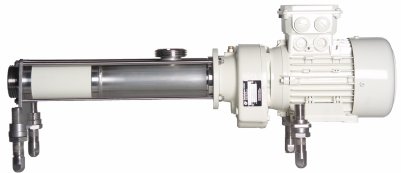 New AEB-SE series of stainless steel progressing cavity pumps especially for the food and beverage industry, dairies, breweries, the paint and varnish industry, and pharmaceutical and chemical companies (photo: Allweiler)
... liquids, comply with food regulations, and come delivered as a complete unit including drive. The pump can move beverages and juices in addition to paints, varnishes, pastes, and chemicals.
The new pump was specially developed for pumping tasks where two requirements are of central importance: gentle transport of even thick liquids; and the use of materials that will not contaminate the pumped liquid yet are resistant to abrasive or corrosive liquids. The new "AEB-SE" series fulfills both of these requirements. All parts that contact the pumped liquid are constructed of V4A stainless steel. Furthermore, in the event of a leak, the pump's design prevents gearbox oil from entering the area with the pumped liquid.
Since Allweiler produces both the rotors and the stators, the pump operator can choose from twenty different materials for these parts. The choices include highly acid-resistant materials as well as materials that satisfy all hygienic and food regulations. Even ATEX-compliant versions are available. Finally, there is a mobile version on wheels (design type "ME") aimed specially at the needs of juice producers and other companies that wish to use one pump for several tasks at various locations.
The pump assemblies are designed for easy and fast cleaning. Disassembly of the pump requires only loosening of four clamp bolts. Optionally available extendable feet also make it easy to clean the surface under the pump.
Maximum flow rate is 600 liters/minute. Maximum discharge pressure is 6 bar (single stage) or 12 bar (two stage). The pumped liquid's temperature may reach up to 80 °C; maximum viscosity is 150,000 mPas; and proportion of solids can be as high as 60 percent by volume.