New Netzsch Positive Displacement Pump Catalogue
The Pump Division of NETZSCH Incorporated now offers an all new comprehensive catalogue for its entire positive displacement pump product line.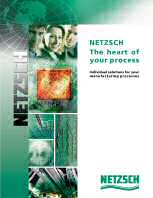 New Netzsch Positive Displacement Pump Catalogue
This 28 page, full color catalog outlines the advantages & benefits of proven NETZSCH vertical, sanitary, close coupled, and standard pumps. Details about NEMO® Progressing Cavity Pumps and NETZSCH Tornado Rotary Lobe Pumps are described. In addition, a wide variety of standard and optional geometries, joints, spare parts & accessories are discussed. Application examples for the entire range of NETZSCH Products are also provided. Thorough illustrations and photographs offer additional information about unique features of NETZSCH pumps.
NETZSCH Incorporated is the North American subsidiary of the globally operating group of NETZSCH companies. NETZSCH is the world's leading manufacturer of progressing cavity pumps, wet grinding and dispersion equipment, dry grinding and classifying machines and filtration systems. NETZSCH Incorporated has been serving North America for more than 30 years.