New Lifting Station for Sewage Disposal from Private Residential Buildings
The new Sanistar-C lifting station from Homa is characterized by a greater efficiency, an improved performance and compact dimensions.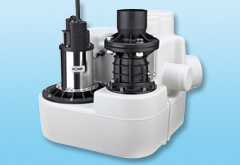 Sanistar-C 106 (Image: Homa)
The submersible pump with a new stainless steel motor has improved effectiveness and provides more energy efficient operation, and is consequently, more economical.
The pump hydraulics, with a non-clogging impeller, have a steep characteristic curve with a maximum lifting height of 13 meters. This ensures reliable performance and flexibility, even when functioning slightly outside of exact design specifications.
Sanistar C 106 s particularly compact collecting basin has 30 liters of switching volume, despite its 610 x 540 mm base. It offers various connection options with both vertical and horizontal inlets for diameters of 40, 100 and 150 millimeters. Whether the domestic waste water enters centrally through a main inlet, or whether the toilet is wall mounted or portable and needs to be connected at the same hight, the collecting tank will always fit.
The new soft sealing check valve operates very quietly and seals completely.
The pump controller monitors the system completely automatically. It displays all the important operating functions, reports faults and reminds you when the recommended annual maintenance is due. Plus for installation: The control unit is pre-assembled ready to plug-in. Plus for maintenance: The Homa ServCom service unit and scanner, which can be connected to the pump control by plug, displays all the important operating data and thereby making maintenance and diagnostics easier. The pumps control levels can also be completely programmed via ServCom.
Sanistar C 106 is available as a single unit from fall 2011 in AC or in a three phase version. Like all Homa lifting equipment, it is certified in accordance with DIN EN 12050.