New Global Application and Training Centre Opened by Japanese Ambassador
The Japanese Ambassador to the UK, His Excellency Mr Hajime Hayashi, and the UK's Foreign Secretary, the Right Honourable James Cleverly MP, joined forces today to celebrate the 25th anniversary of Invertek Drives Ltd in Mid Wales, UK. The commemorative event took place at the company's global headquarters and manufacturing facility in Welshpool, Powys, and featured the official opening of a state-of-the-art variable frequency drive global Application and Training Centre.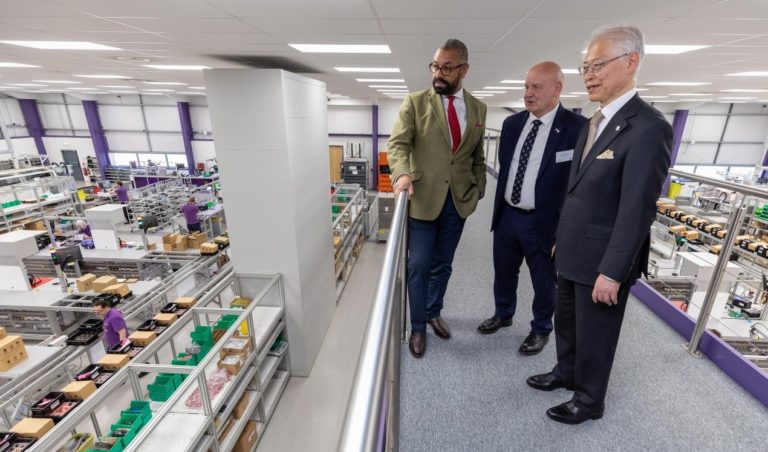 Foreign Secretary James Cleverly MP (left) with Shaun Dean, CEO of Invertek Drives Ltd and Senior Vice President of Sumitomo Heavy Industries, and Japanese Ambassador to the UK, Mr Hajime Hayashi Image source: Invertek Drives Limited
The occasion brought together guests from around the world, including representatives from Invertek Drives, its Japanese parent company, Sumitomo Heavy Industries Ltd, sales partners, suppliers, and local Member of Parliament, Craig Williams.
The newly opened Centre, a result of a significant investment by SHI since its acquisition of Invertek in 2019, further cements the company's commitment to innovation and excellence at its base in Wales.
Invertek Drives has earned a world-renowned reputation for its expertise in designing and manufacturing its Optidrive VFDs, which effectively regulate the speed of electric motors. By consistently advancing VFD technology, the company plays a pivotal role in reducing energy consumption in a multitude of motor-controlled applications in industries globally. This helps reduce carbon emissions in motor-controlled applications and creates greater efficiency in the processes.
The total investment by SHI now stands at £30 million, enabling Invertek Drives to employ over 380 individuals at its headquarters. Additionally, the company is expanding its manufacturing facility just four years after its opening, with plans to produce up to 1.2 million VFDs annually, representing part of a £10 million investment including the new Application and Training Centre. Moreover, a new £6.2 million Innovation Centre is scheduled to begin construction in 2024.
Established in 1998, Invertek Drives began with three founding directors and a handful of employees at Welshpool. Over the years, the company has experienced consistent growth, currently employing over 380 individuals and exporting 95 per cent of its products globally through a network of sales and service partners in over 80 countries.
In 2022 the company reported a 45% growth in year-on-year sales, with a total turnover amounting to £79.3 million.
Ambassador Mr Hajime Hayashi, who inaugurated the new Application and Training Centre, said: " The success of Invertek Drives is as an excellent example for other Japanese companies in Wales, and the UK as a whole, to admire and take inspiration from. I highly commend their contribution to building a greener and more sustainable environment and our better future."
The event coincides with the recent announcement by UK Prime Minister Rishi Sunak, revealing that Japanese businesses have committed to investing £18 billion in key sectors within the UK. This substantial investment comes in addition to the £92 billion already contributed by Japanese businesses.
Foreign Secretary, Rt. Hon. James Cleverly MP, said: "Celebrating 25 years of Invertek Drives in Mid Wales is a brilliant example of the long-term, ever-growing partnership between the UK and Japan. Invertek Drives' dedication to energy efficiency aligns perfectly with our shared global goals.
"It is fantastic to see such a positive impact being made both internationally through their leadership on green innovation, but also here in Wales by growing the local economy and creating jobs."
Shaun Dean, Senior Vice President of SHI, CEO of Invertek Drives, and CEO of PTC EMEIA, emphasized the significant progress made since the acquisition, stating: "The investments made by SHI have propelled Invertek Drives to new heights in research and development, infrastructure, and talent acquisition.
"These efforts have enabled us to bring ground-breaking solutions to our customers, expand our manufacturing capabilities, and enhance our global reach. We are unwavering in our commitment to innovation and revolutionising industries through variable frequency drive technology advancements."
Craig Williams, MP for Montgomeryshire, acknowledged the company's achievements. He said: " We are incredibly proud to have Invertek Drives based in Mid Wales, they remain at the forefront of revolutionising motor control technology, setting new energy efficiency and sustainability standards.
"World leading in reducing carbon emissions through their ground-breaking VFD solutions. They are a leading force in the pursuit of a greener future. As the local MP however their contributions to the local economy and employment market in Montgomeryshire and Mid Wales make them a hugely valued member of our community."