New Cutaway Model of Refrigerant Pump for Ammonia Training
Since the opening of the Schaufler Academy in February 2016, Bitzer's international training centre also offers ammonia training. To promote practical experience, Hermetic donated a cutaway model of an NH3 pump to the Schaufler Academy that will be used in each NH3 (R717) training from now on.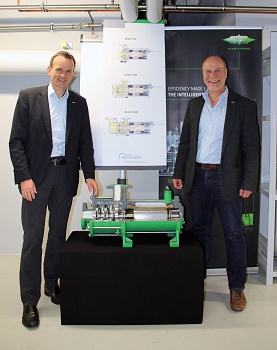 Volker Stamer, Director of Schaufler Academy, and Walter Reich, Bitzer Application Consultant, are pleased with the cutaway model of the Hermetic NH3 pump used for training purposes. (Image source: HERMETIC-Pumpen GmbH)
The intensive training is aimed at all refrigeration specialists with many years of experience in synthetic refrigerants, CO2 and hydrocarbons. During this training, the attendees will get to know the specific features of the refrigerant ammonia. In addition, components of the refrigeration circuit are discussed that are used less or not at all with other refrigerants. This includes circuits where the refrigerant is pumped to refrigeration points.
Hermetic-Pumpen GmbH is one of the renowned manufacturers of pumps for this specific application. For the Schaufler Academy, the company supplied a cutaway model of a CAM 3/3 NH3 pump for training purposes. The cutaway model is useful for showing various details to attendees.
NH3 pumps and NH3 compressors are a bit apart in the NH3 circuit; however, when operating the refrigeration system, their interaction must be considered. The cutaway model of the NH3 pump is an asset for the Academy - the educational institute would like to thank Hermetic for this generous loan.