New Butterfly Valve with Double-function
In July 2014, the KSB Group will launch a new shut-off butterfly valve, which also functions as a check valve. It is manufactured in nominal sizes ranging from DN 500 to DN 1400 for pressure classes PN 6 to PN 40.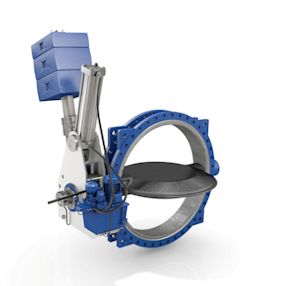 The new compact Dualis series combines the functions of a shut-off butterfly valve and a check valve. (Image: ©KSB Aktiengesellschaft, Frankenthal)
During normal operation, valves of the Dualis series work as electro-hydraulically actuated butterfly valves. They open and close like ordinary butterfly valves with a category A tightness to ISO 5208 / EN 12266-1.
In the event of a failure, a weight fitted to the lever arm closes the valve at an adjustable pre-set speed. This protects pumps, water turbines and pipelines from the destructive forces of surge pressure and prevents undesired backflow of the fluid handled.
The new soft-seated valve has been designed for applications in water transport, water distribution, seawater desalination and hydropower as well as in industrial cooling circuits.
The actuator is a compact unit which comprises all electro-hydraulic components. This allows easy access to all key components and facilitates dismantling and reassembly of the actuator. The valve needs to be connected to a three-phase 400 V/50 Hz power supply as standard. The opening and closing times can be set to the precise system requirements.
Dualis has been designed in modules to easily accommodate any customer-specific options, such as special control cabinets, various electrical measuring equipment, sensors or control units.