New Asepco AKS Actuator Series Simplifies Installation and Maintenance for Process Valve Piping Systems
An important innovation has been made to ASEPCO Weirless Radial Diaphragm in-line-valves; a new lightweight actuator combining a plastic body with stainless steel diaphragm interface designed specifically for the biotechnology and pharmaceutical market.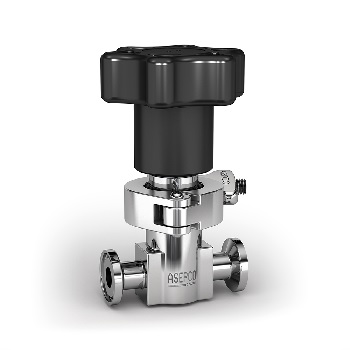 New Asepco AKS actuator Series (Image: Watson Marlow Group)
The new Asepco AKS actuator is reliable, durable, GMP compliant and requires fewer brackets or ancillaries for installation. With a hygienic design, the new actuators have laser-etched serial numbers for full traceability, are easy to operate and maintain, and carry a market-leading three year warranty.
Asepco Weirless Radial Diaphragm valves deliver consistency, while reducing maintenance time by up to 80%. Their unique construction, simple Tri-Clamp assembly and Weirless Radial diaphragm design makes them completely drainable and virtually eliminates the risk of contamination.
The full range of in-line and tank valves are designed to provide reduced cost of ownership. Changing a diaphragm only takes seconds, making the valves simple to inspect, clean and use.