New Allheat Pumps for High Temperature, High Pressure Needs With Uncooled Mechanical Seal
Colfax Corporation announces through its business platform Colfax Fluid Handling the introduction of its new Allweiler Allheat series of heat transfer pumps. Allheat pumps are capable of pumping synthetic oils at temperatures up to 400°C and design pressures up to 40 bar (PN 40), yet the design requires no mechanical seal cooling.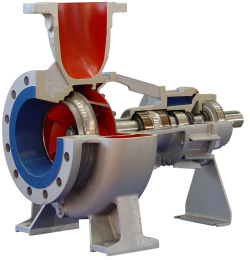 With a maximum capacity of 1450 m3/h, the "Allheat 1000" is the flagship of Colfax Fluid Handling s new 400 °C heat-transfer pumps. (Image: Allweiler)
They offer an economic alternative to conventional heat-transfer pumps that rely on costly, special seals.
The Allheat series' uncooled mechanical seal feature offers users a pump that is capable of performing under high temperatures with an extremely low initial investment and low maintenance costs.
New Allheat centrifugal pumps are ideal for high-temperature heat transfer applications such as those encountered in solar installations and during ground decontamination. Available as base-plate, block, and inline versions, Allheat pumps include a wide range of standardized parts that makes them economical to produce and simple to maintain. Finally, a uniform combination of materials covers all pumped liquids.
Allheat pumps are extremely versatile, another economic benefit. For example, if an operator decides to convert to modern synthetic oils, he can easily adapt existing pumps to the elevated requirements simply by replacing the insert units. The flexibility of using a single pump type with a variety of heat-transfer liquids should greatly simplify processes for operators and plant designers. "The Allheat series offers a unique, dependable design that results in lower total costs (TCO) than comparable systems," said Stefan Kleinmann, Vice-President of the Industry Business Segment, Colfax Fluid Handling.
Colfax Fluid Handling's Allweiler brand has provided heat transfer pumps to global customers for more than 40 years. High-temperature pumps, designed specifically for synthetic heat-transfer oils, have been available for approximately 10 years.