New A-C Fire Pump Bulletin Highlights Vertical In-Line Fire Pump
A Series 1580 bulletin that illustrates the new 1250/1500 GPM vertical in-line fire pump is now available from A-C Fire Pump.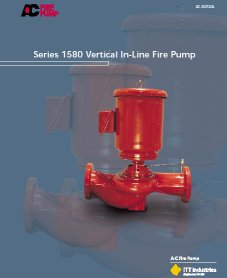 Bulletin AC-50702A describes how the compact, self-contained design of the Series 1580 pump allows for more flexibility and space-saving efficiency by requiring 30 percent less space. The bulletin also highlights the pump's easy installation, wide range of sizes, trouble-free maintenance, and the cost saving design elements. Series 1580 pumps are FM approved and UL listed.
The new literature features color diagrams, photographs, and pump specifications. Charts present materials of construction, a list of all product components, UL rated capacity (GPM), pressure range (PSI), and RPM for all the pump sizes.
A-C Fire Pump Systems, a unit of ITT Industries, is a leading manufacturer of fire pumps, prefabricated fire pump packages and house units.