New 3″ Fire Pumps Saving Australian Homes
Australian Pump has released a new, high pressure, high volume portable fire pump. Called the "Mr T 305", the twin impeller pump features high pressure performance with 3" ports to provide more volume under pressure.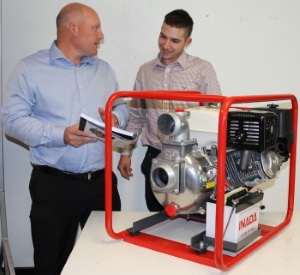 The new Mr T 305, with 3" inlet and outlet, provides more water at pressure, making it faster to knock down fires. (Image source: Australian Pump Industries)
"We came up with the idea after talking to people at Field Days. They liked the idea of having a high-pressure pump that throws more water at the fire to shut it down fast", said Aussie Pumps' Chief Engineer, John Hales.
The pump's performance curve shows the pump delivers up to 300 litres per minute, at an astonishing 70 metres head. That's almost 100 psi! It is the pumps 3" inlet and outlet that enables the enhanced performance. "Some fire pumps choke flow with a 1½" inlet and that can be critical in a fire situation", said Hales. For example, contrasting the new 3" pump with its 3" suction port to a 1 ½" suction port on the same size pump is like restricting 75% of the flow from getting into the impeller chamber. "It's like having a tap halve closed," said Hales.
The Mr T 305 is powered by a Honda GX390 recoil or electric start 13hp petrol engine. Part of the 'Aussie Red Brigade', the pumps come in a heavy duty red powder coated steel frame with anti-vibration mounts. The water pressure is developed from two inline heavy duty impellers that deliver more water at high loads. The 2" 'Mr T' twin impeller has been on the market for some time and has proved itself in firefighting, agriculture and even dust suppression. The new version, with 3" inlet and outlet, is ideal for farmers wanting to shift more water at pressure than is possible with a conventional high-pressure fire pump.
"We even make a diesel version using Kubota or Yanmar engines. This gives us access to a wide range of opportunities including firefighting, with the additional benefit of the ready availability of fuel!" said Hales. A tanker running out of water during a fire can lead to tragedy. Refilling the tank quickly can be a big challenge. The new 3" fire pump can also be set up to load water. With a flow of 300 lpm, a 6,000 litre water tank is filled in around 20 minutes.
Teaming the new 'Mr T' 305 with a big polypropylene tank like the Rapid Spray range, can make a tip truck or even flatbed vehicle into a very handy fire fighting vehicle. Farmers looking for crop protection or even water cartage will find the pump useful with its big 3" ports and high-performance characteristics. The new 'Mr T 305' will suck water through a vertical lift of 7.6 metres. That's a truly amazing feat considering most fire pumps will have trouble handling 6 metre lift!