Netzsch Pumps Conveys Extremely Difficult Media to Oil and Gas Fields
Despite all efforts to promote renewable energies, global demand for crude oil and natural gas has continued unabated. Prices are rising and interest in opening up new sources, including unconventional sources, is rising with them.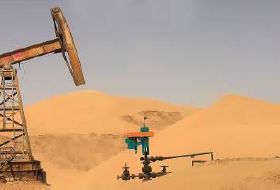 Progressing cavity pumps are increasingly replacing traditional pumpjacks. (Image: Netzsch)
Methane from coal seams and highly viscous oil at more than 10,000 mPas are already of commercial interest, but are just as complicated to extract as oil sand mixtures from the Sudanese desert. Conveying systems have to be adapted to the media and the environment if production is to be efficient under such conditions.
The traditional image of oil production using pumpjacks with their distinctive donkey heads is still to be seen on many oil fields around the world. However, pumpjacks are increasingly being replaced by a less spectacular, but more efficient system - progressing cavity oil pumps. The primary success of this technology is its ability to convey highly viscous oils at above 50,000 mPas while maintaining stable pressure. What is more, it can do so with almost no pulsation or shear forces, thereby avoiding emulsion effects in oil/water, which would significantly hinder subsequent separation of the oil/water mixtures at the surface.
Complex field of application requires a range of drive and pump types
As the body of the progressing cavity pump is comparatively slim, it is perfectly suited to the interior of the bore hole. Netzsch has developed various drive heads for different performance and speed requirements to generate the torque above ground. The vertical GH drive, for example, comes with 20 to 100 H.P. and 3,400 Nm torque and is specially designed for large loads and rotation reduction of 1:4. The right-angled RH version, on the other hand, is used for very low piston-rod speeds and can be connected to a combustion or hydraulic motor thanks to its particular geometry. The highly economical DH direct drive is the option for higher rotation speeds up to 500 rpm.
In this case, the drive is connected to the pump body itself, which is available in various designs. The standard NTZ model has low life cycle costs thanks to its small number of wearing parts and is suitable for oil mixtures with up to 40 percent gas or sand content at up to 160 °C. It can achieve conveyance rates of between 0.5 and 300 m³/d at maximum 300 bar.
The NTU pump series, on the other hand, was designed with the focus on low start and operating torques and low interference from temperature or chemicals. The steel housing of the spiral form of the inner elastomer stator was adapted for this purpose, so that the rubber walling is of equal strength throughout and also swells and shrinks evenly. Finally, there is the NSPCP for directional and horizontal bores - a deep well submersible pump that does not require an above-ground drive, but operates instead with an attached upstream submersible motor, which draws energy from a power cable. Long transmission rods are therefore not needed.
Extreme robustness under difficult conditions
The metal and elastomer materials are selected to match the anticipated conditions for all types of pump to keep wear from the medium to a minimum while simultaneously creating optimal conditions for conveying. Temperature and density are taken into account, as well as the relative content of water, natural gas and hydrogen sulphide. This approach not only increases the performance of the systems, but also ensures a long service life and long maintenance intervals.