Moyno Releases New Progressing Cavity Pump Bulletin
Moyno, Inc., a unit of Robbins & Myers, recently released a new bulletin featuring the company's wide array of progressing cavity pumping capabilities. For nearly 70 years, Moyno has developed, manufactured and marketed progressing cavity pumps that deliver superior performance and long life.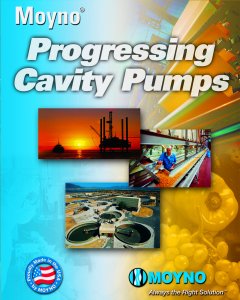 The six-page, full color bulletin offers detailed information on Moyno® pump capabilities, typical applications, technical features and customer benefits. Technical information included in the bulletin covers the Moyno® 2000 Series, Moyno® 1000 Pump, Moyno® Sanitary Pump, Moyno® L-Frame Pump, Moyno® 500 Pump as well as the Moyno® Metering Pump. Numerous models are available in a variety of construction materials with many different options, allowing customization to specific needs.
Some of the advantages of Moyno progressing cavity pumps covered in this new brochure include:
Accurate, repeatable, non-pulsating flow
Low-shearing action
Self-priming
Quiet operation
No pistons, valves, diaphragms, or timing gears to wear out or gum up
Viscosities over 1,000,000 cps
Pressures to 2,100 psi, capacities to 2,500 gpm
Moyno, Inc. is a leading manufacturer and marketer of Moyno progressing cavity pumps, multiphase fluid transfer systems, grinders and controls. It has an extensive worldwide stocking distribution network that serves a wide range of industries including water and wastewater treatment, pulp and paper, chemical, food, pharmaceutical, mining, petrochemical and oil and gas recovery. Moyno, Inc. is a unit of Robbins & Myers, Inc.