Move into Top Gear with Johnson Pump
Many applications involving the transportation of both low and high viscosity liquids demand pumps that provide exemplary levels of reliability and efficiency, which is why the internal gear pump is the technology that many engineers turn to as the most appropriate solution.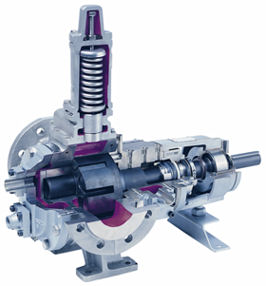 Gear Pump (Image: SPX)
SPX, with its Johnson Pump brand of Top Gear API 676 internal gear pumps offers three pumps, the TG-G' TG-H and TG-L, for general purposes duties, high demand applications and low viscosity fluids. All three models operate on the principle of the rotor and idler in the pump case un-meshing, resulting in an under pressure being created and the liquid entering the newly created cavities between the rotor teeth and the idler. The liquid is then transported in sealed pockets to the discharge side. The pump casing walls and the crescent create a seal that separates suction from the discharge side followed by the rotor and idler meshing and the liquid being pushed into the discharge line. This action ensures a constant and smooth flow.
The Johnson Pump Top Gear TG-G. TG-H and TG-L pumps all provide high volumetric efficiency due to the small radial clearances which reduce slip and the optimised rotor/gear shape. Long life and low maintenance is ensured by the pumps' simple and compact design, together with the robust construction of the rotor and shaft. With the TG-L pump, the large vertical ports assist in improving the priming capability and reducing the risk of cavitation. In addition, the pump and motor are flange mounted to pedestals to achieve correct alignment between the pump and the drive shaft.
With a range of shaft seal, jacket and safety relief options, SPX Johnson Pump gear pumps provide the perfect fluid handling solution where operating conditions can be challenging and the nature of the fluids being pumped can have a detrimental effect on components and efficiency.