Mounting Aid by KSB Speeds up Maintenance Work on Waste Water Pumps
KSB is presenting a new maintenance aid for waste water pumps. Sewa Slide is a movable support that makes the task of opening the pump a simple one-person job, allowing measures such as impeller inspection or the removal of fibres and solids. Cranes or lifting equipment are not required.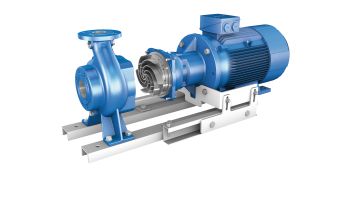 Sewa Slide is a movable support that makes the task of opening the pump and carrying out service measures a simple one-person job (Image: KSB SE & Co. KGaA, Frankenthal)
The mounting aid can be quickly bolted on or removed by a service engineer. For facilities with several Sewabloc pumps, a single Sewa Slide unit is sufficient. It can be moved between pumps on an as-needed basis.
With the Sewa Slide in place, the service engineer would simply undo the bolts fastening the volute casing to the bearing bracket of the pump. The back pull-out unit of the pump including the impeller, shaft, bearings, sealing elements and motor can then be pulled out of the volute casing.
The volute casing remains in place, attached to its suction and discharge lines. Once the pump has been opened, the impeller is freely accessible, so that it is straightforward to remove the materials that have caused blockages or to perform other maintenance operations.
Once the maintenance work has been completed, the service engineer rolls the back pull-out unit consisting of impeller, shaft and motor back into place and re-inserts the bolts. Sewa Slide is available as an optional accessory for the Sewabloc pump family.