More Power and Infinite Control For Drum Emptying Pumps
The Finish Thompson range of drum emptying pumps is now available from Michael Smith Engineers with the option of a new high performance, variable speed electric motor which provides 650 watts of continuous power combined with infinitely variable speed control.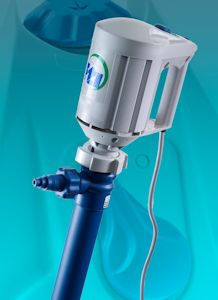 Michael Smith Engineers
The M5V motor is 40% more powerful than comparable units and this helps to eliminate problems associated with heat build-up resulting from overloading or voltage fluctuations.
Available from pump specialists Michael Smith Engineers the new M5V motors are designed for use with the popular PF, TB and TBF series drum pumps. These new motors incorporate an improved bearing retaining system which eliminates any chance of movement and have larger threads on the motor shaft coupling to help compensate for increased torque.
The new speed control system features a robust circuit board mounted potentiometer which uses spade connections to make replacement easier and a resistor circuit which prevents premature failure due to arcing. Also, although usually never required, the carbon brushes can now be replaced. The infinitely variable electronic speed control means fluid flow can be precisely controlled, while the double wall motor housing minimises noise and vibration and a downdraft cooling system helps contributes to extended motor life.
These new motor options further extend the capabilities of the established range of Finish Thompson drum pumps which are ideal for transferring many liquids, including corrosives, solvents and viscous fluids. Models are available to handle capacities up to 150 lit/min and viscosities up to100,000 centipoise.