Miniature Motor Packs a Punch with Optimum Efficiency
Dunkermotoren introduces new miniature BGA22 rare earth, permanent magnet motor (BLDC) for diagnostic and analytical devices for applications such as laboratory robotics, medical 'pick-and-place' systems and also hand-held devices.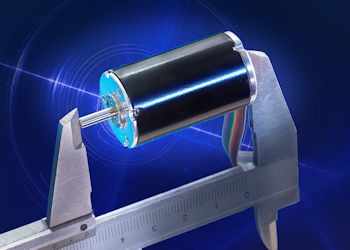 Miniature Motor (Image: Dunkermotoren)
Measuring just 22mm in diameter, 38mm in length and weighing 0.065 kg the BGA22 is the smallest motor in the Dunkermotoren range and provides an outstanding power-to-size / weight ratio performance, so is ideal for smaller medical devices or other similar hand-held equipment.
The impressive power to size ratio and rigidity of the motor combined with high power density and energy efficiency is achieved as a result of its innovative axial flux stacked windings design. The stacking of magnet and winding discs are an innovation in motor design and this is a significant factor in the power to size ratios exceeding those of traditional coreless motors and contributes to extended operation in battery powered systems. The motor's axial flux design also has no cogging torque and therefore literally no vibration and quiet operation.
Getting new products to market as quickly as possible can also be challenging for machine builders, however Dunkermotoren's modular system allows quick customization to suit the specific requirements of individual projects, whether it requires precise positioning, low speeds with a gearbox or a combination of both.
This technology also helps to solve the problems of losing steps. For example, high-frequency noise, subsonic vibration and higher motor temperatures which can occur in stepping motors, can be avoided.