Micro Annular Gear Pumps Deliver Precise, Smooth Flows
A new range of miniature, ultra low-flow, positive displacement, micro annular gear pumps which are capable of dispensing a wide range of liquids with precise, smooth, pulse-less flows, are now available from pumping specialists MICHAEL SMITH ENGINEERS.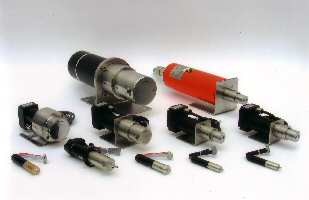 Michael Smith Engineers
The ultra-compact HNP series of pumps deliver liquids with a precision of CV < 1% across a range of flow rates from as little as 0.25 microlitres up to 1152 ml/min, so they are ideal for OEM, analytical, biotechnology and other similar applications. The range comprises four series of pumps with the dosage volumes covering the sub-micro litre to litre range for both non-lubricating and highly viscous liquids.
HNP micro annular gear pumps are rotary pumps constructed with an externally toothed internal rotor and an annular tooth external rotor, which are slightly eccentric to each other. During rotation of the rotors around their offset axis, the pumping chambers simultaneously increase on the suction side and decrease on the delivery side of the pump, resulting in a homogeneous flow rate being generated between the kidney-shaped inlet and outlet. This design principle, combined with careful material selection and high manufacturing precision, facilitates the transfer of very low volumes with precise, smooth, pulse-less flows.
Other features and benefits include high differential pressures up to 150 bar for some models, achievable even for low viscosity liquids, and long-service life, thanks to the use of materials such as wear-resistant tungsten carbide and ceramics.
The pumps are available in a choice of wetted materials and with various drive options and this, along with their compact size and small footprint, ensures they can be easily incorporated into the designs of many systems.
Typical applications for HNP pumps include micro-process and micro-reaction systems, analytical instrumentation, sampling, robotics, fuel cells, particle and DNA analysis, biological cell handling, ink jet printing, minimum quantity lubrication systems, aromatizing, flavouring, PCB cooling and process intensification systems.