Mechanical Seal for Large Water Pumps by KSB
The 4EB series is a mechanical seal specially developed for large pumps handling drinking water and service water.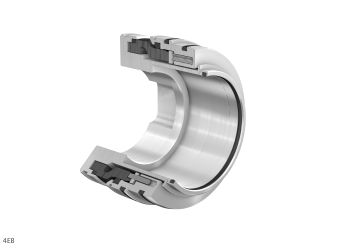 Photo: With the 4EB mechanical seal being especially designed for its installation space in the pump, wear at the seal faces is minimal (Image: KSB SE & Co. KGaA, Frankenthal)
The single mechanical seal in modular design is very compact. With the mechanical seal optimally matched to its installation space in the pump, wear is kept to a minimum, ensuring a long service life.
The primary rings are made of silicon carbide as standard. For the mating rings the user can choose between silicon carbide and carbon graphite. The O-rings are made of EPDM or FKM elastomers certified for drinking water. All metal components are manufactured from corrosion-resistant stainless steels such as 1.4122 or 1.4571.
A multi-spring arrangement provides the required pre-loading for the mechanical seal without coming into contact with the fluid handled. This protects the individual springs from contamination and leads to a longer overall seal life.
When designing the 4EB seal the engineers attached great importance to straightforward installation and removal. Assembly fixtures and fastening bolts are not required; the seal's modular design minimises downtime during maintenance inspections and prevents faulty reassembly. The mechanical seal is suitable for a dynamic operating pressure of up to 25 bar and a static operating pressure of up to 37.5 bar.