Master PUR-Food Hoses from Masterflex Pass Stringent New Food-Grade Tests
The Food Hoses made from polyurethane of the Master-PUR range were tested by an independent institute according to the most stringent requirements of the food industry.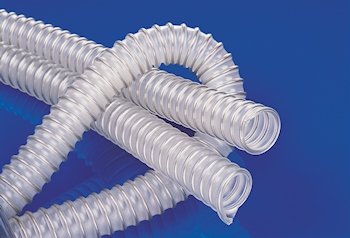 Master PUR-Food Hoses (Image: Masterflex)
The result: the entire range has been awarded the sought-after accreditation according to the very latest industry regulation (EU) 10/2011. This confirms the almost unlimited applications of the new Masterflex Master-PUR Food hose range for transporting and conveying foodstuffs.The hose range is suitable for contact with foodstuffs, enabling heated conditions of up to 70 °C for up to 2 hours. The food-grade hoses are especially suitable for transporting and conveying solids, liquids and gases. This therefore makes the Master-PUR Food hoses from Masterflex a highly versatile and high quality product – a perfect match for the food&drink and pharmaceutical industries.
Stringent guidelines determine the manufacturing process of hose systems for such applications. The renowned hose specialist Masterflex therefore only uses raw materials, which are officially approved for contact with foodstuffs. Closer cooperation with raw material suppliers, manufacturers and industry experts is indispensable in this field and therefore guarantees the highest quality possible. Furthermore, the industry-tested hose range fulfils the requirements of the regulations (EU) 1935/2004 and 1282/2011, as well as the requirements of the animal feed regulations and the German Consumer Goods Ordinance. For further information, please refer to the test certificate H-223950-12-Bg, which will be gladly supplied you with upon request.