Manfred Stern Now CEO of Yaskawa Europe GmbH
Yaskawa Europe GmbH has restructured its management board. Manfred Stern, who was in charge of the Yaskawa Group's European business operations until April as Chief Operations Officer (COO) & President, has been appointed to the position of Chief Executive Officer (CEO).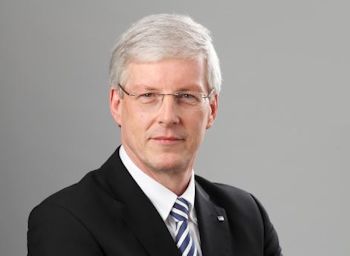 Manfred Stern, who hitherto managed the European business operations of the Yaskawa Group as Chief Operations Officer (COO) & President, was promoted to the position of the Chief Executive Officer (CEO) in April. (Source: Yaskawa)
In his new function Stern succeeds Koichi Takamiya, who will be returning to the Japanese headquarters after eight years of service in Europe. In future the latter will be responsible for global Sales and Marketing of the Yaskawa Group. With Stern as President & CEO, Yaskawa Europe will be headed for the first time by an exclusively European management.
Manfred Stern has been with Yaskawa since 2008. Under his responsibility the Robotics and Drives & Motion divisions were merged into one company in 2010. Further steps to strategically align Yaskawa Europe as a solution provider were to follow.
These included the acquisition of Vipa in 2012, a company specializing in control and visualization technology, the acquisition of a majority interest in the Yaskawa South African subsidiary in the same year, as well as the founding of a new national subsidiary in Turkey in 2013. The Switch Engineering Cooperation, a Finnish company, has likewise belonged to Yaskawa since October 2014. Headquartered in Helsinki, The Switch is a supplier of generators and converters in the high output range for wind power plants.
"Following the successful realignment and formation of the Yaskawa European organization, we are now concentrating on two key areas," Stern describes the upcoming strategic goals: "Firstly, we will continue to expand our business by intensifying our sales activities. In particular, that means exploiting the synergies and cross-sales potential between the distribution channels of the Robotics, Drives & Motion and Vipa divisions. Secondly, we will be using our home-grown system expertise to offer the market advanced solutions on the basis of a broad product range – control technology, drive technology, robot portfolio."