MAC Secures Multi-Million Pound Contract with Leading Pump Manufacturer
Morgan Advanced Ceramics, designers and manufacturers of technical ceramic components, is pleased to announce it is celebrating its 30th year of working in partnership with Grundfos by securing a new four-year multi-million pound contract.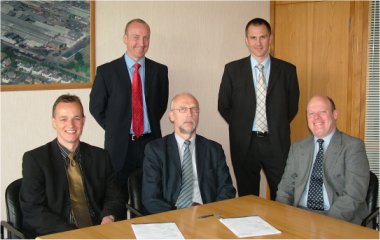 (l-r) L. Ostergaard - Grundfos A/S, M. Moore - MAC Stourport, N. Qvortrup - Grundfos A/S, L. Shaw - MAC Stourport; A. Hosty - MAC
The company will be supplying the global pump manufacturer with materials expertise and a range of ceramic products – a tradition that over the years has led to significant developments in new pump technology.
The relationship, which is one of the longest of its kind in the materials industry, began with Morgan Advanced Ceramics supplying Grundfos with a variety of shafts and bearings. Since then the company has been involved in several new product developments; for example circulator pumps that are used within central and distributing heating systems and domestic service systems.
"Bearings are critical to the pump's performance and in order for us to offer a maintenance-free, 15 year lifetime expectancy we needed to find a partner who would be able to supply us with high quality product at the right cost, " explains Preben Jakobsen, Technical Manager BS OEM Division, Grundfos. "We recognised Morgan Advanced Ceramics as leaders within the materials industry and approached them to assist us in designing and then supplying us with a ceramic bearing that would not generate noise over time so the pump could meet and exceed its lifetime guarantee."
During the relationship Morgan Advanced Ceramics has developed its internal production facilities to ensure it can produce its high quality ceramic components at the quantities required by Grundfos.
"To supply large global companies such as Grundfos we have to have the facilities and expertise to provide them with large quantities of consistent high-quality product," explains Chris Paine, Sales and Application Engineer at Morgan Advanced Ceramics. "Operating in these volumes it also enables us to offer competitive prices – which is essential in today's economy."
Morgan Advanced Ceramics has also supplied bearings and washers for other Grundfos products including its submersible, centrifugal and composite pumps and work continues on more diverse and innovative pump technologies such as dosing pumps. Morgan Advanced Ceramics continues to invest in and optimise its processing facilities to keep in line with the forecasted year-on-year increased demand.
About Morgan Advanced Ceramics
Morgan Advanced Ceramics (MAC) has a comprehensive range of Ceramic materials, from which its products are manufactured. Supplying to a variety of demanding markets, MAC has established an enviable reputation for providing value-added solutions through world-class research and development, innovative design and, perhaps most important of all, application engineering.
As a subsidiary of The Morgan Crucible Company plc, MAC forms part of the Morgan Technical Ceramics Group. The Group includes Morgan Electro Ceramics and from manufacturing locations in North America, Europe and Asia, it supplies an extensive range of products, including ceramic components, braze alloys, ceramic/metal assemblies and engineered coatings.