Maag: New Chinese Facility to Better Serve the Asia-Pacific Customers
To further increase its footprint in the far-east and re-state its interest in China and the Asia-Pacific region, maag automatik has opened a brand new facility in Shanghai, with its parent company, the Dover Corporation.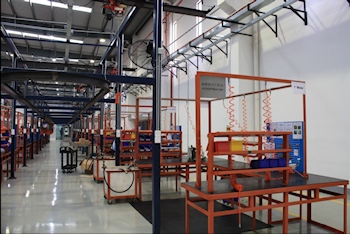 Maag's new Lingang, Shanghai facility. (Image: Maag)
The 11,000 sqm building will help Maag's customers optimize their own operations with services including localized technical expertise, improved after-sales support and customer service in an ISO 9001-certified facility, shared with the company's new owner and its subsidiaries. The state-of-the-art complex includes a 30-seat room to provide education and training opportunities for end-users and distributors as well as a product showroom where visitors will be able to observe how Maag's locally-made products are manufactured and operated.
Andreas Weidner, Sales Manager for China, comments: "This new facility will provide Maag with the basis for supplying components and machines directly out of China, one of our most important markets. For our Chinese customers this means closer contacts, shorter delivery times and even more added value".
Ueli Thürig, Maag's CEO, states: "this new cutting-edge facility is more than double the size of our previous Chinese operational headquarters and exemplifies Maag's dedication to this rapidly-expanding market. The combined might of Dover and Maag, now a part of the corporation's Pump Solution Group, brings us to an entirely new level in terms of purchasing, quality assurance, and localized manufacturing. As a benefit, our customers can look forward to an increased availability of spare parts and vastly improved lead times, but most of all the systematic use of a stringent management system will also guarantee that the quality standards that distinguish Maag's services and products in Switzerland will also remain in force in China.