Lewa Acquires Successful Sales Representative
After the retirement of its CEO of many years, Burkhard Schmedding, Lewa GmbH has purchased Ingenieurbüro Schmedding KG, which acts as a sales and consulting office for pump systems in North Rhine-Westphalia, Germany.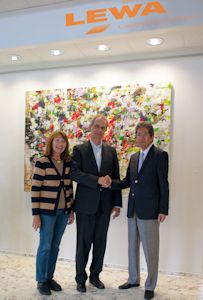 Kristina Schocke-Schmedding, Burkhard Schmedding, and Naota Shikano (left to right) after signing the purchase agreement at the end of June, 2014. (Image Lewa)
The company s activities are primarily in the chemical, petrochemical, pharmaceutical, system and machine design sectors and the cosmetics and food industries. In addition to representing Lewa, which the office has done for two generations, Schmedding also offers other high-quality products and technical solutions for industrial applications, including special Bungartz centrifugal pumps, Richter chemical technology and Witte gear pumps for chemical and polymer applications.
The purchase agreements were signed at the end of June, 2014, and upon closing in September Lewa will take over final responsibility. Until now, the office, founded in Hamburg in 1930, has been family-managed. At the beginning of the 50 s, Schmedding moved to Düsseldorf, then to Erkrath in the mid-90 s, from where the company built a large network throughout Germany as Lewa s single most successful representative. "When we began our cooperation 60 years ago, Lewa was a ten-man shop. Since then, technology leadership and a good corporate culture have united us. Both have let us grow together," says Burkhard Schmedding in retrospect. One of the conditions of Lewa s purchase was that the employees will keep their jobs and existing representation partnerships will be retained. "Among other things, the good contacts and great respect for the staff at important industrial clients are good reasons for Lewa to strive to maintain continuity," emphasizes the head of Corporate Development at Lewa, Florian Kieninger. Since the other product lines round the office s portfolio out very well, Lewa plans to continue the agreements with the different manufacturers.
To make the transition as smooth as possible, Burkhard Schmedding will start to gradually disengage between now and the end of the year. Since the engineering office is established as a local brand, the company will remain legally and financially independent even after its acquisition by Lewa. Long-time employee Kurt Mattis will take over management of the office as a fully-authorized officer.