KSB: 140 Years Old
On 18 September, the pump and valve manufacturer KSB turned 140 years old. Company founder Johannes Klein started production in 1871 with the help of 12 employees and the support of Friedrich Schanzlin and August Becker, on part of today's company premises in Frankenthal.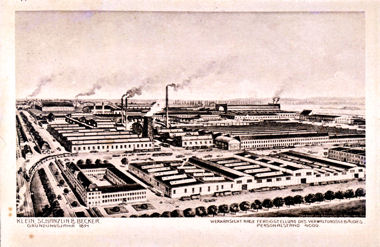 Historic view of the KSB plant in Frankenthal around 1917 (Image: KSB)
With more than 15,000 employees, production sites on every continent and a sales revenue of around € 2 billion, KSB today is one of the world's leading manufacturers of centrifugal pumps and valves.
The development of innovative technology started with the boiler feed apparatus of Johannes Klein. This was followed by valves and pumps for a wide range of applications.
The acquisition of several German companies in the same field contributed to the company's rapid growth. In addition, production facilities were set up in Asia, South America and Africa as early as the 1950s and '60s. This meant the pump manufacturer was well prepared for the globalisation of trade and industry, thanks to a worldwide network of sales and production sites.
Since 1964 the majority interest in the public limited company established in 1887 has been held by the non-profit KSB-Stiftung [KSB Foundation].