Iwaki: New Digitally Controlled Metering Pump
With the IX-C60 model Iwaki enlarges its digitally controlled metering pumps range. A brushless DC-motor offers a wide turn down ratio of 1:750, which meets a discharge range of 0.08 l/h up to 60 l/h.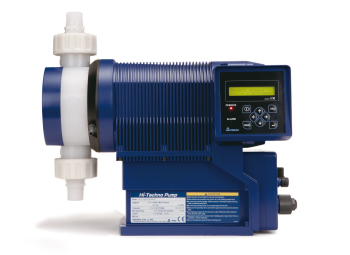 IX-C150TCR-TB-E with PVdF pump head (Image: Iwaki)
The pumps work by a micro processor controlled prime- / discharge stroke with a constant stroke length of 100 %. The setting of the dosing volume is exclusively done by stroke rate and the varying stroke speed. Even viscous or shear-sensitive liquids can be dosed without gas lock.
The fixed stroke length adjustment ensures additionally a very low constant dead volume ratio over the entire dosing range. Due to this drive system a low pulsating, smooth and continuous dosing without any pressure peaks over the complete performance range is guaranteed, with a repeatability of +/- 1 %.
By a multi-language, user friendly LCD-display, the operation modes (manual, batch control, pulse, interval batch control, analogue and prime) are selected. All important operating data, such as discharge capacity, operating time, no. of strokes etc. are displayable at any time. With only a few key presses the pumps will be calibrated on the installation conditions, without manual calibration. No further adjustments are necessary, even if the discharge quantity will be changed.
For maximum operating safeness the pumps are equipped with a diaphragm rupture detector and an overpressure sensor. Thanks to a clocked multi-voltage power supply (AC 100 - 240 V; 50 / 60 Hz) the pumps can be used worldwide. Due to their unique design, the valves of the prime- and discharge side cannot be inverted.
Further configurations at a glance:
Anti-cavitation function for viscous and outgassing liquids
Selectable prime modus for viscous liquids
Level sensor with alarm signal for Stop and PreStop
UL, CE, CUL, EMCE approval / certification