Integrated Heating Solution From Armstrong Speeds the Way For Health Centre Refurb
When a West Midlands NHS Trust needed to upgrade HVAC systems at a busy health centre, an integrated heating solution from Armstrong speeded up and simplified the refurbishment project.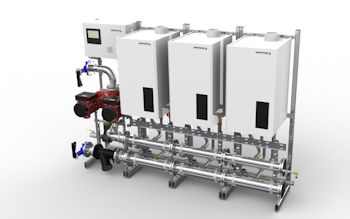 Armstrong
The high efficiency equipment installed at the site will now reduce energy usage throughout its lifetime to minimise the running costs and carbon impact of the centre.
NHS Dudley is responsible for improving the health and well being of everyone who lives in the five localities of Dudley: Brierley Hill, Stourbridge, Dudley North, Halesowen and Sedgley. As part of its ongoing strategy to improve provision for local people, the NHS Trust embarked on a programme to upgrade Halesowen Health Centre – a busy GP practice.
A major challenge was to replace the existing equipment for heating and hot water at the health centre with a new, more reliable and energy efficient system. The M & E contractor for the project, Kershaw Mechanical Services Limited, decided that an off-site manufacture approach would have particular benefits for this project. They approached Armstrong which has a production facility in Halesowen.
Armstrong supplied its popular MBS integrated heating solution for the project. In contrast to traditional approaches (where components are delivered to the site and assembled there) the MBS was assembled and integrated away from site, at Armstrong's factory. On the day designated for the installation, the preassembled boiler plant was delivered to the site, requiring only final connections.
As the equipment was already pre-assembled and tested, it was possible to replace the system within days rather than the four to five weeks that would have been needed if the systems were assembled on site. The modular design of the MBS also brought important benefits when moving the new equipment into position. It is designed so that sections of the system can be moved quickly and easily through a standard doorway, without the need for specialist lifting equipment. This speeded up and greatly simplified the positioning of the equipment at the health centre.
In addition, the MBS provides outstanding energy efficiency. It incorporates three high efficiency 62kW condensing boilers, variable speed drive pumps and advanced controls, which automatically match the heat and hot water delivered to the changing demands of the building and its occupants. This has cut the energy costs for the site significantly, and enabled the NHS Trust to reduce its carbon footprint. The MBS also has more compact design than the equipment it replaces, freeing up space, and improving the boiler room environment by making it easier to clean and maintain.
Manufacturing the heating solutions away from the health centre also had the advantage of reducing contractor traffic at the site during the project, reducing health and safety risk. It also meant that assembly of the heating systems by the equipment manufacturer in a purpose-designed factory guaranteed the very highest levels of quality for the finished system.
Dominic Cutts of Armstrong said, "Our integrated heating solutions and plantrooms are installed all over the country and are also shipped abroad, so it was a great pleasure to be able to assist a local customer. The MBS has proved to be extremely popular since its launch, particularly for health sector projects, as it brings major energy efficiency benefits with minimum disruption to services."