Flowtech Supports BPMA's Drive for Correct CE Marking
Flowtech Water Solutions is a pump, pressurisation unit, booster set and general water services supplier, specialising in the Building Services and HVAC sector. Established in 1996, the company provides a range of standard and bespoke water booster sets and pressurisation units for the domestic and commercial market.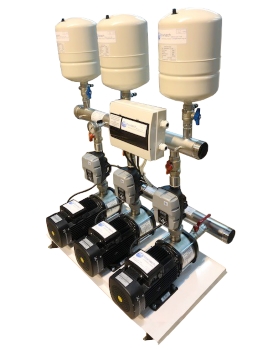 Flowtech Booster Set (Image: Flowtech Water Solutions)
Certificated to ISO9001 and a fully paid-up member of the British Pump Manufacturers' Association (BPMA), Flowtech is keen to achieve production standards which demonstrate the ability to consistently provide products and services that accurately meet its customers' expectations. But equal to this is a determination to also meet, and where possible exceed, any associated regulatory requirements.
Conscious that the BPMA – as the leading trade body representing the pump industry – is mandated to help ensure that the correct standards and directives are adhered to across the pump manufacturing and supply arena, Flowtech were interested in the recent publicity surrounding CE Marking of pump sets.
Gary Wilde, Technical Services Officer at the BPMA, has been keen to highlight the fact that CE Marking is not solely incumbent upon the original pump manufacturers; it also relates to those who produce booster sets, pressurisation units, rainwater harvesting equipment, heating systems or any other bespoke pumping units.
These complete units are deemed to be machines 'in their own right' and must, therefore, have a CE Mark affixed and be supported by all the appropriate documentation, including a Declaration of Conformity (DoC). Some people remain unaware that it is not just the manufacturer who is responsible for compliance, but the assemblers, suppliers and installers of pumping equipment. If assemblers market the products under their own brand names, they take over the manufacturers responsibilities and they will be assuming the legal responsibility and CE Marking of the products they build.
As a complete set, it will need to have its own identification label affixed with an appropriate CE Mark and will need to comply with the correct legislation. The label needs to carry a minimum amount of information such as a serial number, product type, supply voltage and performance data along with contact details of the set builder and where the packaged set was manufactured.
Existing in its present form since 1985, CE Marking is a certification mark that indicates conformity with health & safety and good environmental protection standards for products sold in the UK and the European Economic Area (EEA).
In keeping with its overall business ethos, Flowtech values quality management arrangements very highly and regards their application as an important purchasing differentiator for anyone looking to specify equipment. As such, the company has recently solicited support and guidance from the BPMA to help ensure that all its manufactured products are CE Marked correctly. Not only does this offer reassurance to the management of the business, it provides yet more evidence of its compliance with conformity, health and safety and environmental protection standards.
In tandem with these compliance credentials, product development continues apace, with several new booster set models currently on test. The forthcoming move to new 11000sqft premises in Wigan further underpins the company's growth and will offer significant customer benefits, including increased stock levels, greater manufacturing capacity and an enhanced repair and maintenance offering.
Commenting on the guidance given, Gary Wilde, BPMA's Technical Services Officer said, "It was a pleasure assisting Martin and the team at Flowtech in relation to the CE Marking for their products. This recognises the company's desire and commitment to achieving optimum levels of compliance, whilst also gaining a competitive advantage over other set builders within the sector."
This was endorsed by Martin Donaldson, Sales Director, Flowtech Water Solutions, who added, "As a BPMA member, we are keen to take maximum advantage of all the services offered by our trade association, and this was especially so in this instance, given its direct relevance and importance to our business". We are proud to have compliance as an integral part of what we offer our customers."