Immersed Lube-Oil Pump With Higher Power
Allweiler has expanded the performance range of its ALLUB® RUV vertically immersed screw pump. Maximum capacity has been boosted to 1300 l/min. or more than 30-percent higher than before.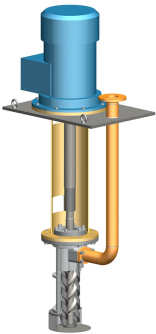 Allweiler AG, Radolfzell.
The pump/motor assembly is delivered complete with covering plate and pipework, making it ready for installation in an oil reservoir. Immersion depth can be adjusted to the height of the reservoir. This pump is specifically designed for supplying lubrication and hydraulic oil in all areas of industry. The pump is designed to stay in service without maintenance for an extraordinarily long time.
The new ALLUB® RUV is ideal for use in any segment of industry where mineral-based and synthetic lube oil, hydraulic oil, and other similar media must be moved efficiently. This three-screw, self-priming pump is designed for vertical installation in the oil container. Depending on the size of the pump and motor, immersion depth in the tank is between 325 and 1600 mm. The series' capacity range now covers 30 to 1300 l/min with maximum pressure of 16 bar; maximum viscosity of the liquid is 760 mm2/s. The pump is designed to incur the lowest possible operating and maintenance costs, giving the owner a low Total Cost of Ownership (TCO). The pump has no shaft seal, the bearing is liquid-lubricated, and hydraulically balanced spindles relieve the spindles, casing, and antifriction bearings. These characteristics make the pump/motor assembly maintenance-free and extremely durable. The operator must not keep spare parts in stock. ALLUB® RUV is available in nine different sizes, each with several different screw-pitch angles. As a result, the operator has an economical way to graduate capacity across the entire performance range and operate the pump with a high degree of efficiency.
ALLUB®-RUV is suitable for operation in potentially-explosive environments and complies with the requirements of EC explosion protection directive 94/9/EC (ATEX 100a) of device class II, category 2G (temperature classes T1 to T4).
About Allweiler
Founded in 1860, Allweiler AG is the oldest German pump manufacturer and the European market and technology leader for centrifugal, propeller, screw, progressing-cavity, gearwheel, rotary lobe, macerators, and peristaltic pumps. Allweiler AG owns a foundry and produces ready-to-use fuel and lube-oil skids and rinsing-water facilities. Allweiler AG has its main German headquarters in Radolfzell on Lake Constance as well as a major production site in Bottrop, Germany. Since 1998, Allweiler AG has been part of Colfax Corp., a global leader among pump manufacturers.