Hygienic Lobe Pumps Supplied by Michael Smith Engineers Help to Smooth the Sun Cream Process
Malibu Health Products is a private manufacturer of sun care and related products based in St Albans, Hertfordshire and well known for leading brands such as the sun cream 'Malibu Sun'. This technical application note provides details of the successful use of Inoxpa Sanitary Lobe pumps, supplied by pumping specialists Michael Smith Engineers, which have contributed towards improving manufacturing processes, reducing maintenance and downtime.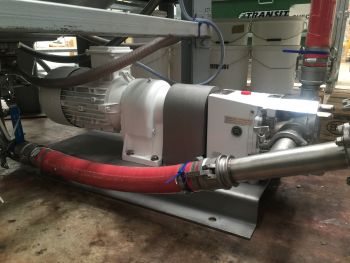 Michael Smith Engineers
The Challenge
Sun creams and lotions are designed to absorb or reflect some of the sun's ultraviolet radiation and therefore help to protect the wearer from the potentially damaging effects of the sun's rays. For these products to work effectively they must be free from contamination, so manufacturing processes must be as hygienic as possible. An important stage of the process requires the transfer of sun care creams and liquids from 1000 litre vessels, which was being handled by flexible impeller pumps. However, there were issues with the pump impellers wearing rapidly due to the viscous nature of the process fluids. The resulting pump failures led to plant downtime, unplanned maintenance costs and product contamination caused by rubber particles entering process liquids from worn impellers. Furthermore, the use of flexible impellers pulled air into the process and also imparted excessive levels of shear stress onto the liquid, both of which could degrade the end product.
The Solution
Inoxpa SLR 2-50 sanitary lobe pumps constructed in hygienic 316L stainless steel were supplied by Michael Smith Engineers, replacing the flexible impeller pumps. These pumps are designed to handle even the most viscous fluids, such as the sun creams being produced at Malibu Health Products, without the risks of contaminating or degrading sensitive products.
The Benefits
The lobe rotor design ensures smooth, shear-free pumping and low operating speeds provide immediate energy savings. George Mears, Technical Manager at Malibu Health Products (Sun Protection) comments, "We are happy with the Inoxpa Lobe pumps supplied by Michael Smith Engineers, as we have now have minimal air ingress into the process, no product contamination and reduced maintenance downtime".
Conclusion
Inoxpa SLR Rotary Lobe pumps are an ideal solution for pumping applications which involve liquids that are highly viscous such as creams, syrups and gels, or those containing solid particles. The positive displacement, sanitary construction meets the strict requirements for processing sensitive, hygienic end-products, making them safe and suitable for use in cosmetic, pharmaceutical, food processing and fine chemical industries. The lobe rotor design features large cavities between the lobes to ensure easy handling of viscous liquids with virtually no shear onto the product. No parts can wear into the process liquid, so the risks of product contamination are eliminated. Furthermore, low operating speeds enable smooth flows, reduced wear, more efficient operation which together, contribute toward longer pump life and reduced energy savings.