Packo Hygienic Pump Portfolio: JEC and Packo unite forces
After years of experience in pumping solutions VERDER has redesigned the structure of the hygienic brands.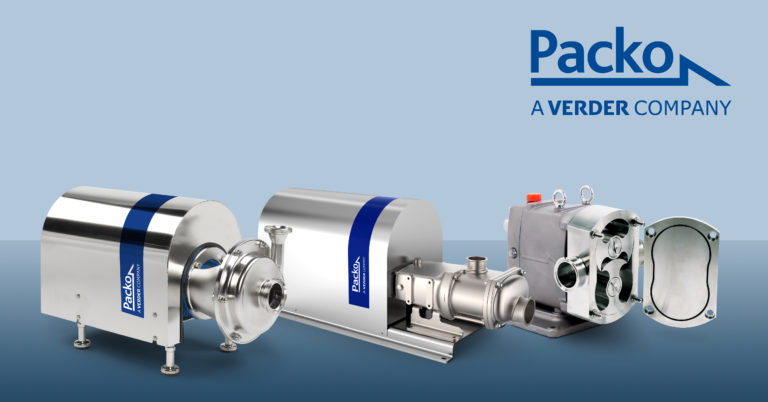 Packo Hygienic Pump Portfolio, JEC and Packo unite forces. (Image source: Verder International BV)
The manufacturing companies PACKO and JEC, both producing hygienic pump series have united forces and will move on as PACKO.
PACKO manufactures hygienic centrifugal pumps and JEC rotary lobe pump and twin screw pumps. The two programs match perfectly and together form a complete pump solution for the hygienic market segment. JEC pumps will be incorporated with PACKO giving customers benefits in:
Speed:
The European Hub from PACKO ensures a faster delivery. By operating in multiple time-zones they can also respond faster to any query you might have.
Knowledge:
By merging the brands, the knowledge will be combining between two centres of excellence, ensuring deeper understanding and the ability to respond to all application needs.
Highest hygienic quality standards:
PACKO is known for the high quality of its pumps, made with extremely strict precision according to the highest hygienic design principles and with a standardized detailed final check on all pumps produced. The lobe and twin-screw pumps will be fully integrated in the high production standards used by PACKO.
Complete portfolio:
By combining the best of both worlds, they are effectively massively increasing their possibilities to offer a great hygienic pump solution. They offering a broader range of centrifugal, lobe and twin-screw pumps under the respected and known name of PACKO.
The current headquarters in South-Korea and Belgium continue to exist as centers of excellence for their core hygienic technologies.