Homa Expands Its Range of Products with the New C237 W
Fast help during flooding – e.g. due to floods, torrential rain, a broken pipe or a defective washing machine – is absolutely essential. The C237W by HOMA is ready for operation in the blink of an eye and mitigates expensive water damage.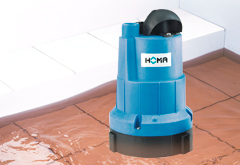 New low suction submersible pump for clear and waste water (Image: Homa)
Simply place it on the floor of the space that needs to be drained, insert the power plug in the socket, lay the drainage hose (available as an accessory) in the drainage pipe, sink, etc. and voila! Done!
The new low suction C237W is especially suitable for pumping out floods in spaces that do not have a pump pit or floor drain.
The Chromatic C237W removes up to 7000 liters of polluted water in an hour, pumping it down to a 2mm residual water level.
The pumped water flows around the cooling jacket, thus keeping the pump from overheating, even at low water levels (sip operation).